I'm writing this somewhere in the middle of the
Strait of Juan de Fuca
between Vancouver Island and Seattle.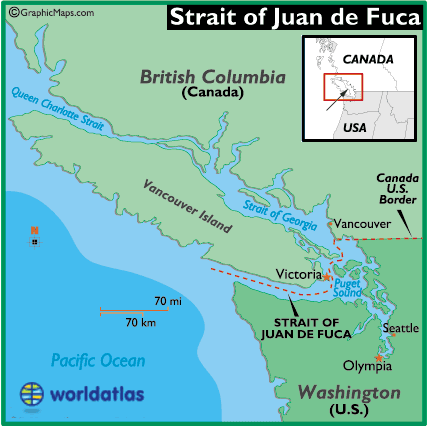 It's pitch dark outside and every now and then the captain of the Clipper swerves, tipping me sideways before we straighten out again. When we were puttering out of the Victoria's Inner Harbour, the captain announced that when we were moving around the cabin (the Clipper is a large, fast catamaran-style passenger ferry) we were to keep one hand for ourselves, and one for the ship. As in, hang on! He explained that the waters around here are full of debris – logs, mostly – and that they do their best to dodge around such obstacles.
We're moving pretty fast – the trip from Victoria to Seattle takes less than three hours – so my question is, how the heck do they see logs in the pitch dark? Or whales? Or small boats? Or people who may have fallen overboard? Not that over-boarders would last long enough in these chilly waters to be considered obstacles, but still.
Why, you may ask, am I on the
Clipper heading for Seattle
? A weekend in Seattle with Dani was her Christmas present for me! Such a lovely child, hey? The fact I'm heading off to meet her to have a few days of fun in a cool city (at least, this is what I am told – I can't quite believe it, but I've never actually been to Seattle - driven through many, many times, but have never stopped there before…) is appeasing me slightly. Dani will be meeting me there after having spent the last ten days or so in California. Highlight of her trip? Attending the Grammy Awards!!!!!!! I am, obviously, quite a bit older than she is and yet – I have not been to anything even remotely so glitzy and cool as the Grammys. Grammies. Whatever. If I had been, I would know how to spell it.